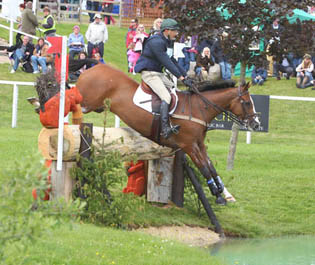 It's been a good day at Barbury today – I didn't come home with any prizes but I did have a great ride around on Coco and a lovely later half to the afternoon having the rare opportunity to watch a lot of the 3 star cross country with my wife, the kids and some of our owners. So it was a real treat. Although Aunty Angela gets a special mention for having the patience of a saint and taking the kids (and their cousins) off to the bouncey castle and army assault course as the children all got rather bored of watching the cross country despite the high class field and plenty of action – there's no pleasing some people!
Coco went brilliantly cross country, confident and agile and very locked on to his lines. I took him very much within himself as there was no point in going flat out for a minor place, however despite having the hand brake on I still didn't get many time which just shows what a nippy horse he is – leaves me very sad that he won't be able to show that side of himself off in Greenwich. Anyway……….
I felt the course was a little softer this year as they'd softened the Hippo water which caused so much trouble last year and also the combination after the quarry towards the back end of the course. This, coupled with the excellent going, led to more than usual getting the time cross country in my opinion but it still made for a good afternoon's spectator sport. The New Zealanders looked outstanding and I think will give the Germans a run for their money at Greenwich as they all went brilliantly today, and that's without Lenamore here today.
The Irish and Americans had their final trial and both sets of riders showed that when you ride at speed and are under pressure things can go wrong. It led to some interesting scores, especially for the Irish. The corners at fence 10 caused the most trouble all day, they were difficult corners for a horse to get their eye on to – old fashioned open corners on a tight bending four strides. I saw them ridden in all sorts of ways all day and some not such great riding, although I know it's easy to be an expert from the side lines.
The other highlight of the day was Ursula and Toddy – she is getting so keen, she rode Toddy at home this morning before we left to 'get him in the groove daddy'!?!? She then had a chance for a good ride around at the end of the day – a little round white pony and small child were seen cantering around the lorry park and the pony club jumping practice fences as all the lorries departed – legs flapping with two big grins on pony and rider – it was a special moment.
This week, if rain doesn't stop play again, I'm at Nutwell Court on Tuesday with Dotty, Timmy and JJ and then off to Aachen with Hipp which I'm really looking forward to, before Glanusk on Sunday weather permitting.
Will keep you all posted.
Cheers,
Bill
Posted 1st July