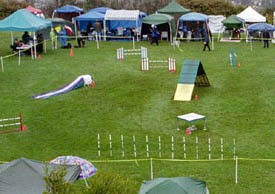 With Gatcombe cancelled I have found myself unexpectedly at home this weekend which has given me a chance to crack on with the horses and potter around the yard getting jobs done around the place.
I also had the unexpected treat of going to the Ebrington fete, our local village fete. I'm usually away competing when it's on so it was nice to get to go and it was a great experience – a very English country affair with classic car rally, fun dog show, lots of fun games for the kids and a whole range of different stalls and entertainment.
Ursula took the dog show very seriously, cannot think where she gets it from! We had dog trials in the morning at home which Byron, Bay and my mother in law's dog Woody were forced to take part in. Bay came out on top from the enforced training session/selection trial and his prize was a beautification session before the main event.
Ursula entered the waggiest tail and child dog handler class and proceeded to come 2nd in both, winning some beautiful rosettes. The dog agility class was not quite so successful as it was a more professional affair with a proper agility course! The kind organiser of the class took the time to walk Bay (and Ursula and me) around the track – he took to the jumps and tunnel very well but was far less impressed with the bending and the ramp he had to go up and over, there was a little pushing and shoving until he got the hang of it.
Suffice to say no rosettes were won in the agility but Bay got an A for effort and Ursula and I had a lot of fun and a welcome distraction from the ongoing event cancellations.
Cheers,
Bill
Posted 14th July