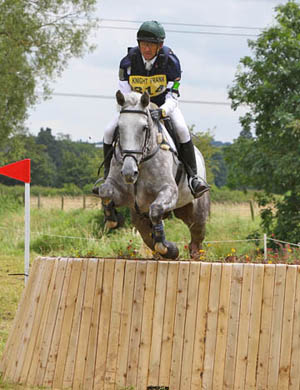 Not my best day – competition conditions were difficult today, but not unsafe. I was in two minds as to whether I should take the horses, but in the end I decided it would be good experience for them as with my experience in terms of knowing how to ride in difficult conditions I thought it would be good to see how the horses went and coped with the mud and inclement weather – it's always good to have a view of such things as often conditions are not ideal at ones target competitions – and so I think it is good to not always run horses on perfect ground. That said I wouldn't want to do it too often as mentally it is more challenging for a horse as well as physically.
To be clear the ground and conditions were not unsafe and I didn't think the ground was gluey (which I consider tendon pulling), it was just very wet and deep/sloppy mud in places – Beanie and Rupert did a stirling job to run at all and I was amazed at the herculean efforts they had gone to. Hats off to them.
The horses were off the pace in the dressage, they all continue on their journey in terms of education and will continue to improve. I was pleased with how they all show jumped as the show jumping was up to height and even more so given the horses were jumping out of the mud – clear rounds were rare as hen's teeth. Silver was the star of the show with a clear round, JJ tried very hard for just one down and Minty and Timmy were unlucky to have two apiece.
Minty and Silver then went well, both going clear, although I took them steadyish cross country – there is always a lot of variety at Dauntsey and the fences give a horse a lot to think about and are very educational. JJ had a green stop at a log on a steep slope immediately before a water crossing – he'd never seen anything like it and it was a green mistake. He came around and jumped it well once he understood the question.
Poor Timmy didn't have a great round and I decided to pull him up after jumping a few fences. He didn't enjoy the mud at all and I could feel him losing confidence – something that is not worth it with a young horse and so I decided to retire him. The ground here on top of Bicton has not helped and I will drop him down to BE100 for a few runs just to rebuild his confidence and help him remember the fun of cross country which he has previously enjoyed.
So not my best ever day but an educational one for the horses.
Tomorrow I'm at Aston Le Walls doing Advanced dressage with Womble and Alfie – and Mary is finally hoping for her first run, post more than a dozen cancellations for her. I understand Aston has also gone to tremendous lengths to try and ensure the event runs and I'm sure others like me are hugely grateful to Nigel and Ann.
Cheers,
Bill
Posted 19th July