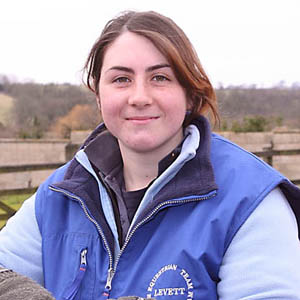 One chapter closes and another one opens. Eleanore finishes with us today and moves on to the next chapter of her career. Jenny and I are indebted to her for all she has contributed to Team Levett over the years – she started with us as a working pupil and grew in experience and stature to take on the role of Head Girl post Badminton 2010 when Vicky left to head overseas.
We owe Eleanore a big thank you for her care and attention to the horses, especially for her role in nursing Hipp back to full health during 2010/2011 and in helping prepare Hipp and Coco for the 2012 Olympic campaign – she has done all she can to manage their programmes behind the scenes to ensure they are 'on the start line' in as best shape as possible. I'm gutted for her (and myself) that we couldn't finish our time together at the Olympics but life doesn't always end with a fairy tale.
A big thank you to Eleanore. She is staying in the area but is taking a slightly different direction working with a family who are 'seriously in to horses' and she will be utilising the skills and expertise developed here to set them up with the best chance of success.
Don't panic this has not come out of the blue! We have been planning for this change since January of this year and Mel, who started with us several months ago and who has been taking over the reins little by little, will now be firmly at the helm – I'm confident Mel will do a great job leading things at Team Levett during the next chapter of our adventures together.
Thank you Eleanore and welcome Mel!
Cheers,
Bill
Posted 23rd July