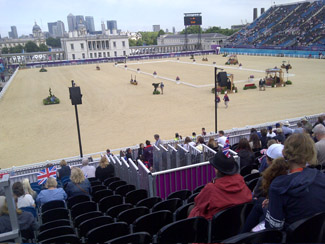 Well I might not be riding but I made it to Greenwich today to watch the dressage. Jenny was lucky enough to get tickets for the dressage and show jumping through the public ballot so we've decided to take the weekend off and go and watch the dressage and have a break from the yard.
We set off at 4.30am this morning and made it to London in a couple of hours, kind friends of ours have lent us their flat for the night. We had a bit of a blip as Jenny realised when we arrived in London that she'd left the keys behind, never mind will worry about that later!
Anyway we are enjoying the dressage. I'm pleased to say Australia have gone well this morning and I'm particularly pleased that Sam has gone really well. I've not yet walked the course, planning on doing that tomorrow so will let you know thoughts on that then. I have heard from others that there are a lot of jumping efforts in the first half of the course and that there are only 8 efforts in the last 4 minutes (vs 20 in the first 6 minutes) so that will be interesting along with the terrain.
The arena is spectacular with amazing views back across the city of London.
The transport all worked well this morning and logistics have been fine apart from lack of food and coffee stalls but that's a small gripe!
Anyway back to watch the final session before we head off.
Cheers,
Bill
Posted 28th July