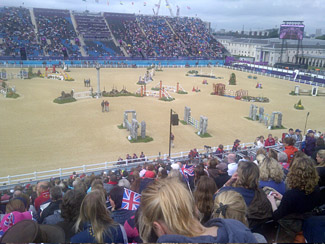 We were lucky enough to stay in town last night with friends and so didn't have such an early start to get to the Olympic venue today.
There were certainly more people on public transport today but we still got to the venue with plenty of time to spare and all the security at the venue works pretty well.
We walked the course first thing and my thoughts are that it's not overly big or technical but that the terrain will make the time difficult and presenting to the fences more challenging. The first half of the track is up and down and the track is not overly wide – I think you will need a very fit horse. Rain could also add to the challenge making it slippery on the turns. Despite the small fences and lack of technicality I still don't think it will  be a dressage competition.
We saw some good tests today but also some of the top horses had a few unforced errors in their tests. I think it's great for the sport that Yoshi is in the lead as this is just the sort of diversity one needs which will lead to its longevity in the Olympics.
Australia are well placed and it's all pretty tight so it should be a good day's competition tomorrow – I'm not brave enough to pick any of the medal winners yet!
Cheers,
Bill
Posted 29th July