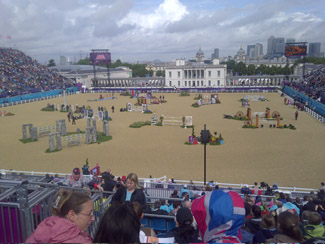 Well what a competition today, it certainly didn't end up a dressage competition. I was willling Sara A to win the individual today but it was not to be. Wega is such a fantastic jumping horse and it's always good to have a few different people winning, I couldn't believe it when that last rail fell.
I thought the course was fair this morning for the team competition but the time made things much more interesting. The experienced riders made the time look very gettable but many didn't and it forced errors. It made for a good competition and I thought Bob Ellis got it right. I thought the clears from the three Germans were pure class, copy book and anchored the gold, the Brits jumped well as did the New Zealanders and the Irish also put in some great show jump performances, I love Electric Cruise – would like to take that horse home and Aiofe's horse is a star, a real competitor.
The individual show jumping was exciting mostly for the fact that the jumps go up and the horses have galloped flat out for 10minutes the day before and are not their freshest. The out and out jumpers continue to find the engine to jump but this second round sorts the men from the boys in terms of the top top jumpers and those that may be feeling it after the cross country.
The logistics of the event in terms of infrastructure didn't really work but the competition itself was excellent.
It's all done now and on to the next thing. Sadly Homme House is cancelled so my next outing is Aston followed by Hartpury.
My reflections on the competition – everyone needs a little luck and the Australian team didn't have it with them yesterday, and same story for me personally in this Olympic campaign. However there is no point thinking about it any more, it would drive me and everyone else mad – on to the next thing.
Cheers,
Bill
Posted 31st July