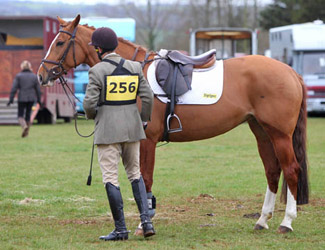 One word to describe Shelford Manor – WET! I don't think I've got as soaked as I have today for a very long time.
The courses at Shelford were about right in difficulty, and it's an event I would definitely go back to. The BE100 was asking a few nice technical questions including two angled brushes, a corner, and a narrower fence off a bend. Timmy had his best day so far, doing a nice test of 26 and finishing on that.
Minty however, who historically has been quite consistent cross country, did not like a difficult corner and once she ran out once she decided that was it and we walked home. She will come through that though, I am sure.
It really poured down in the afternoon, as I think it did in most places around the country. Crunchie did not have his best day but it is very early days with him: he is still pretty tense in the dressage and show jumping is still all pretty new to him, and with the rain and thunderstorms he got very anxious and tense across his fences. JJ went very well and is now qualified for his CCI*, he continues to find novice very easy and take it all in his stride.
We have a day at home tomorrow to dry out and then we are off to Somerford on Friday where I'm hoping to secure Alex's CIC** qualification for Le Lion.
Cheers,
Bill
Posted 15th August