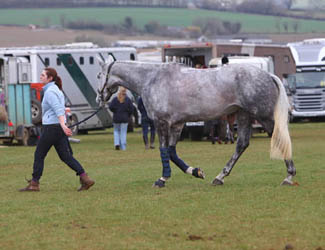 I've been up at Somerford today which is one of my favourite venues but one I've not had a chance to get to for the last few years due to it clashing with Blair and one thing and another.
I had Alex's dressage for the 2 star and he went well, trying really hard – the great thing is there is more to come but he still scored 48.1 so I was very pleased.
I also rode Minty and Silver in the Novice. Silver went well, just rolling a pole in the show jumping and then going very confidently cross country. Minty jumped a nice show jump round going clear and went better in the dressage but she was naughty at a corner on the cross country although I got her over it in the end. She jumped the rest of the course well.
Mary did well, getting one step closer to her qualification for Osberton which is great.
So overall a pretty good day although no prizes.
Somerford is a lovely event. It's all so well laid out and the dressage arenas are nice and flat. The show jumping is on a lovely surface with a big arena feel – trade stands and flags etc, with great show jumps which provide a good variety and fillers we've not seen before.
The cross country runs around a beautiful estate and the courses are well built and presented by David Evans and his team. The novice rode well today and the 2 star looks like a nice track with some interesting questions. The fences are up to height, well dressed and have a lot of variety which is great and you definitely feel like you are getting your monies work riding around!
Back tomorrow with Dotty, Crunchie, Tommy and JJ and Jenny has Bluey and Ultra
Cheers,
Bill
Posted 17th August