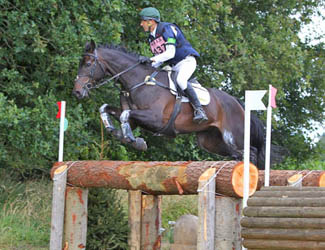 Today I've been at Wellington, a new event which has taken the place of Highclere which sadly is no more.
Alex had gone so well at Somerford I decided not to run him here and instead I rode Doug (Dunmurry Boy) for Laura and Alex, people I know locally who wanted an assessment of the horse and to see if I could get some form on it. Doug is not yet really established on the flat so the dressage was a bit hairy but he jumped well for a double clear and 6th place which was very pleasing. He's young but I'm sure he will make up in to a nice horse for someone to be competitive with going up the grades.
Sadly the day went downhill from here. The show jumping ground was a bit uneven, the grass not the shortest and it got very slippery. There seemed to be horses not finding the footing the easiest all day long and there were more falls on the flat that usual (a good half dozen) in the show jumping which you don't expect to see.
Jenny had made sure we all had good studs in as a consequence but sadly she fell victim to the slippery ground, having a not very nice fall on the flat with Ultra – she was a bit bashed up and very upset for Ultra who had been going very well and had done nothing wrong. One of those things. We then had to withdraw Bluey as Jenny had hit her head and we also didn't run Crunchie with the ground conditions.
Tomorrow we have the Advanced with Womble and Alfie and Silks in the Intermediate – I hope the bad weather that is forecast stays away and we have a better day.
Cheers,
Bill
Posted 26th August