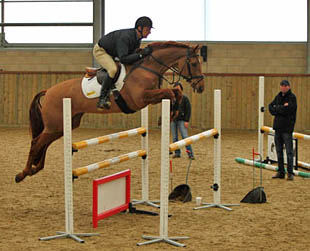 I decided not to go to Wellington today with the horses. Silks is coming back from some time off and Womble and Alfie weren't desperate for the run so with a heavy heart I withdrew them all as I just wasn't happy with the ground – I'm sure in years to come the event will improve ground wise but for me this year it wasn't quite consistent enough for me to risk the horses.
The Wellington team had gone to a big effort to put on a good event including activities for families and lots of trade stands, however the elements have been against them all summer and the ground was just not consistent enough for me, especially on the cross country – the mixture of clay and sandstone and different farming practices meant to the ground was quite changeable under foot and I don't like to run on such ground unless it's absolutely necessary.
I'm sure the ground will improve with time and I take nothing away from the organisers who've clearly made a big effort.
Instead I rode Hipp and did a little jumping with him over some skinny fences to ensure he was focussed and listening to me on a line. Hipp also had a last check from Tom and Maggie to ensure we leave no stone unturned. We head off tomorrow lunchtime to Burghley – cannot wait.
Cheers,
Bill
Posted 27th August