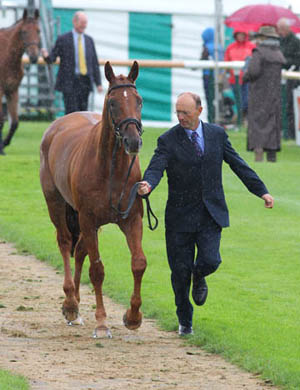 Well we passed the first test at Burghley, the trot up – I was gutted for fellow Aussie Tim Boland that he didn't fare so well being spun having pulled a shoe earlier in the week at Wellington, poor chap – he's really had a dreadful summer with firstly missing out on the Olympics and now this. Horses certainly give us a roller coaster ride through life!
Hipp seems to have settled in well and is pretty relaxed and eating up well.
We've had a lot of rain today but the ground I think will take it and the weather is meant to improve for the remainder of the week.
The course is very big and long and will be a true stamina test for the horses, however I think it is a little more obvious where the horses need to jump at the fences this year than last. Discovery Valley is still a very difficult fence but they've given you a little more time to back on to the fences.
The first water once in comes up very fast and you have to canter across ground in the water to the second part of the test which can put you off your distance and he's made the distance shorter at the two elements in the water which will be less forgiving.
I had a lesson this evening with Hipp and he's had some physio. Our dressage is tomorrow straight before lunch so let's hope the judges are not thinking about lunch and I'm able to ride well, and that Hipp will also rise to the occasion.
Cheers,
Bill
Posted 29th August