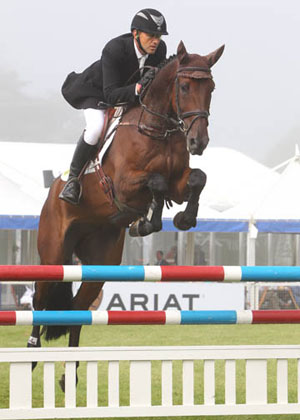 Well this morning didn't go quite as I had hoped! Alfie and Womble are both great jumpers but today just wasn't my day or theirs.
We show jumped in the fog this morning, which made things a bit spooky and the course was big and square. Womble jumped well but had 3 down which I was very disappointed about as he's a great jumper. I made an error in his bitting – I changed things when I should have stuck to what I rode him in at Hartpury so I'm really cross with myself.
Alfie didn't have luck on his side. He pulled a shoe one before he was due to go in which was not ideal. Thankfully Nick is the farrier at Blenheim and was up at show jumping so we were able to get it back on quickly but we were three from the end and so didn't have much time – we had to jump a fence and go in. Not ideal. We then had a loud round of clapping as the commentators thought the class had finished which was unfortunate just after I came in.
Anyway he just went a bit green on me, got a bit free and had 4 down which I was gutted about.
Not my day but sometimes horses go like this – not a good patch right now, hopefully things will improve and I can give both horses a good ride tomorrow cross country.
Cheers,
Bill
Posted 8th September