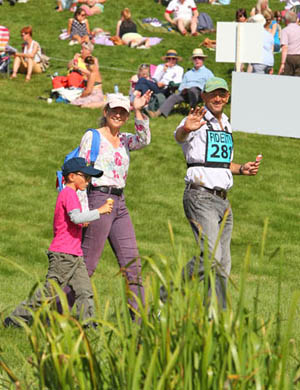 Well what can I say? It's not been the best of days.
I walked the course again yesterday afternoon and I thought it all looked pretty jumpable. Definitely tougher than last year I think but still a fair test. The CCI seemed to cause a fair amount of trouble and again created a good day's sport as it wasn't a dressage competition.
I took the horses out for a hack this morning early and they both felt great. Womble was up first and, to cut a long story short, he and I had a purler of a fall in the warm up, one of those freaky things. I asked him to move to a fence to make sure he was at the races for the test ahead and we had a miscommunication and he and I both fell all over the fence. In some ways I was very lucky as he fell on and trod on me but I got away with foot prints on my hand and leg so not too bad, however I was pretty sore.
I decided not to run Womble and also made the same decision regarding Alfie given the amount of swelling in my hand. Neither of them were at the sharp end of proceedings and both of them already have their CIC qualification so I decided in discussion with my owners to save them for another day.
Gutted for all of them and feeling pretty flat – but that's horses.
It's not been the best fortnight.
Cheers,
Bill
Posted 9th September