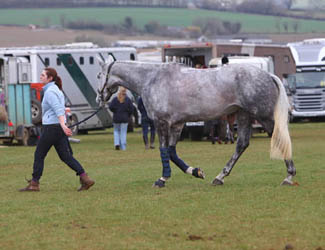 It's been a mixed day at Kelsall today – I had Silver, Tommy and JJ in the novice – and in short I ended up on the deck on Silver and jumped two double clears on Tommy and JJ. I was gutted to end up in the drink on Silver as she had gone nicely in the show jumping, jumping a lovely clear and was going well cross country when she just seemed to lose her footing on landing in the water and she crumpled on landing. Very frustrating. We both walked away a bit sore and very wet – but otherwise OK.
I like Kelsall very much as an event but I hope they check out the novice water footing as I was one of half a dozen to end up in the same way which doesn't seem right. I took the long route on my other two horses to be on the safe side.
Tommy jumped a confident double clear to end up 2nd in his section after a nice dressage with just a blip in one of the leg yields and last halt.
JJ just gets better and better and is now so confident at Novice despite his lack of mileage – only starting eventing this year – he jumped a lovely double clear and was very rideable. He finished just outside the placings as I didn't go quick on him.
It started to rain heavily shortly before the end of the day and the forecast is it's set in for the week which is a bit dull – it feels like winter is fast approaching.
Cheers,
Bill
Posted 23rd September