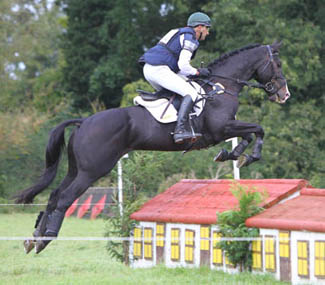 It's been a good couple of days at Dauntsey and I must start by saying what a great job they did to be able to run at all given how much rain they must have had this past week and how much damage they had to the ground in the Spring post all the wet weather, so hats off to Beanie and crew for pulling it off.
I had Silver and JJ yesterday and Mary rode Clover – we came home with three double clears which was pleasing but no ribbons – as we all took it slowly. JJ did his first intermediate novice, although I was not completely with it and hadn't realised he was doing the IN until I trotted in to the arena and the judge hooted the horn! She was kind enough to let me hastily exit and learn the test rapidly and represent – however I and JJ were a little flustered and we were therefore a little off the pace after the dressage. He jumped a lovely show jump round, one of few clears and then went very confidently around the cross country – he's come on a huge amount in his first season eventing and I'm thrilled with him.
Likewise with Silver who is also completing her first season eventing and, despite her fall last weekend which was completely not her fault, she has also had a great first season eventing despite the weather and stopping and starting.
Today I was riding Crunchie and Dotty and they both finished in the ribbons which was great – I really enjoy riding them both as they are both very athletic so it was a fun day out with them. Both are exciting horses for the future.
Tomorrow I'm up early riding the horses at home before an afternoon off with the children and good friends and one of the things I love about England – Sunday lunch!
Cheers,
Bill
Posted 29th September