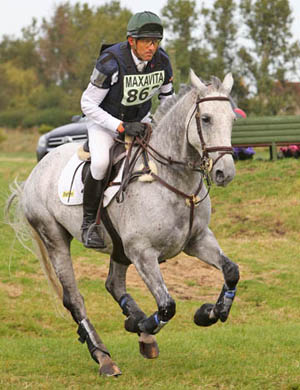 It was a very early start this morning to get to Little Downham. Silks had his last run of the season, Hipp was having his last run before he heads to Pau and JJ was having a go at intermediate dressage and show jumping, standing in for a horse we had withdrawn. All the horses were doing the intermediate and the cross country course was varied and up to height with plenty of testing lines and interesting fences for the horses.
Hipp and Silks both did nice dressage tests, JJ's score wasn't quite as good but it was much better than his first attempt at an intermediate test only a few days ago at Dauntsey – he is improving all the time.
JJ and Hipp jumped clear show jumping around a track that caused lots of problems and Silks was unlucky to have 1 down.
Hipp had a great cross country round until a very straightforward fence , the second to last, where he thought he was going straight passed it, then I tried to pull him onto it which took him by surprise and we ended up running past it – very frustrating. Silks was very confident around the cross country and I will be very excited to see how he comes out next Spring when he will be competing at 3* level events. JJ didn't run cross country as he was substituted in and the cross country was up to height. I thought it wasn't a great track for a first time intermediate and so best to save him for the Novice at Pulborough on Friday.
They'd had a good bit of rain at Little Downham so the gound was much better than I've known it at times as it can get on the firm side. All in all well worth the trip for some educational fences.
Cheers,
Bill
Posted 1st October