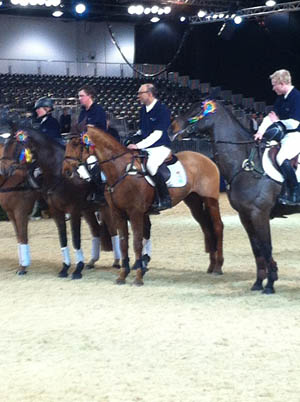 Mel and I set off before many would even have gone to bed I can imagine, a completely uncivilised hour to head out, but at least we beat the traffic on our journey across London to the Excel Arena for the Express Eventing competition.
We managed to arrive in good time and with only two wrong turns, and a big thanks to Mel for driving me there although I'm not sure which is tougher, driving or map reading! I was grateful for her at the wheel though so I could get some shut eye.
Hipp and I were doing arena familiarisation at 7.00am and then I had a chance to walk the cross country course before they dismantled it. It was then time for the dressage to music – Hipp and I didn't do too badly given dressage to music is new to both of us; we managed to hold it together, keeping things smooth and simple in our test so we could ensure we didn't risk too much! Hipp did his part and we ended up 7th after this phase.
It was then time for the cross country against the clock – I thought this could be our forte and it was, he went brilliantly like a little nippy pony and we were the fastest clear of the session which was pleasing. We pulled up to 4th place and Team Griffiths, which William (FP) and I were representing, held the lead.
Sadly we then had a show jumping round to forget – I think a combination of plastic poles and Hipp being a little tired, I don't know. Or maybe it was just one of those rounds. We had a few poles down, he just rolled them, never belting any but tapping his way around. Maybe he was also feeling the ill effects of an early start – we will never know as horses cannot talk, a real shame. I'm now feeling rather deflated but such is life – if we get a second chance I will definitely make sure I travel him the night before.
Time to head home. It will feel like a long trip given we lost our podium spot – but that's so often horses I'm afraid.
Cheers,
Bill
Posted 17th November