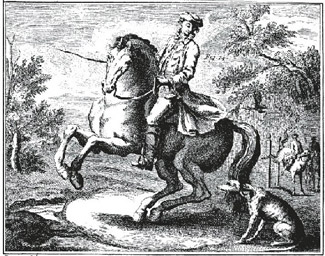 I've been back at it with the dressage lessons. I took Tommy and Alfie to Gareth this week and, inspired by my Express Eventing experience and because it's good for the development of these particular horses, we worked on canter pirouettes.
We drove through a deluge of rain to get to the lessons which was an adventure, but thankfully Gareth has an indoor school which I was very grateful for!
I'm really enjoying my lessons and also time spent at home training the horses – many people like a complete break at this time of year and, don't misunderstand – I like my holidays! However I really enjoy the process of training horses and I love the wintertime (apart from the weather) as I can focus exactly on that time spent at home training the horses.
Silver, Dotty and JJ are all coming on well on the flat and this concentrated time with them all has been very beneficial. I'm really enjoying all of them. Dotty is such a funny horse, she loves the process of learning and flat work is growing on her but she would get bored of it quickly if I didn't mix and match things.
Silver and JJ are different again, Silver is the sweetest, most gentle horse one could hope to meet. She and JJ are both earnest and constantly eager to please in their training.
The common link is they are all generous horses, intelligent, with big hearts and therefore a pleasure to train.
Cheers
Bill
Posted 21st November