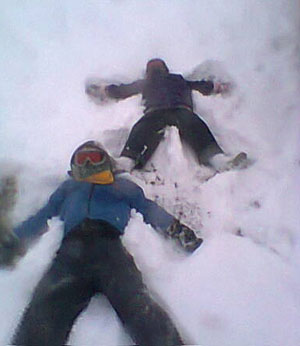 Today sadly snow stopped play. We've had quite a heavy snowfall and despite best efforts it wasn't possible to ride as as soon as we cleared it away it came down again.
So aside from making snow angels with the kids it's been a day of chores – cleaning and organising, which is an endless task with horses – someone needs to invent a yard which keeps itself clean and ensures horses make less mess!
I'm' already bored with the snow and keen for it to disperse as it's interrupted a well planned schedule, with the saddler due to come today and various other lessons planned in. There is nothing to be done so the decision was made to do more snow angels with the kids.
Cheers,
Bill
Posted 18th January