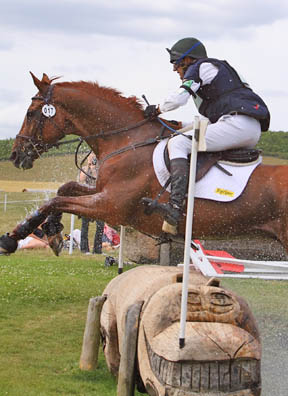 I'm very sad to have to let you all know that we received some very sad news today.
Dear Hipp has been put to sleep as he broke his leg in a tragic accident which is a mystery to one and all at his retirement home. He was much loved and treasured by Kenny in his retirement.
I'm so sad for Kenny and the Leggetts for them all to lose Hipp in this way. Hipp deserved a long and happy retirement as he'd been a wonderful servant over many years. The Leggetts had found him a perfect retirement home and Hipp made the adjustment to being a superstar, pet and friend to Kenny seamlessly.
Owning horses, as many of you will have sadly experienced first hand, can be both incredibly rewarding and joyful and also cruel and heart wrenching.
I owe Hipp more than words can say, he gave me my highest Badminton placing to date, he got me back in front of the Australian selectors and kept me there. He was all heart and dug deep and the wonderful thing about him was that once you had his trust he would do anything for you – as underneath it all he wasn't the bravest or biggest moving horse, it took everything and more for him to operate at four star level and he kept on giving in spades.
Thank you Hipp – RIP.
Bill
Posted 26th January