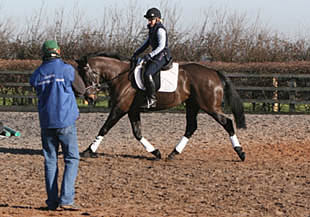 I've spent chunks of this week teaching which is something I don't get a chance to do that often – I enjoy giving clinics from time to time, and imparting the knowledge I've developed myself and learnt from others over the years. It is always rewarding to work with people and help them to develop their skills. I find it equally rewarding to work with someone just getting started or gaining their confidence etc as I do working with someone trying to tackle their first three star event. For me it's the process of learning and developing skills that is interesting.
It's been a busy week as the horses are all out show jumping and having dressage lessons (as usual) as part of their preparation pre-season. I've still not been cross country schooling as I'm (a) not in a rush as most of the horses aren't out for a few more weeks and (b) I'm hoping the longer I leave it the more the ground will have dried out. I'm pencilled in to go with all the horses next Tuesday so let's pray the weather doesn't throw us a curve ball between now and then.
I'm also at team training on Monday with Gilbert Bockmann, who is our team show jump coach. He is over for a few dates in the next few months and I'm lucky enough to be able to have a few slots with him, which will be very helpful this coming week.
Cheers
Bill
Posted 22nd February