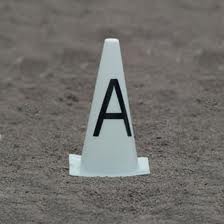 It was another early start this morning to get to West Wilts for combined training with Alfie, Womble, Alex and Tommy. It was nice to see the wind had dropped from previous days so it wasn't quite as cold.
Alex and Tommy did a 2* test and show jump round. They were 1st and 2nd after dressage but one showjump down each meant they dropped to 2nd and 5th. It's good to get them out but it makes me realise there's still a way to go for them to be competitive in a strong class and so there were lots of positives to take from the day but still lots to work on.
Womble and Alfie are still inexperienced at 3* level and that showed with some really nice work in the dressage arena followed by some inconsistencies. But it was a good thing to get them out as it gives me a realistic idea of where the horses are at and what I need to focus on in their and my training at home – lots to do! The show jumping was also educational for both horses.
We head up to Lincoln on Sunday with Alfie and Ricky for their first run of the season so I'm keeping everything crossed that the weather improves and that the rain stays away.
Cheers,
Bill
Posted 13th March