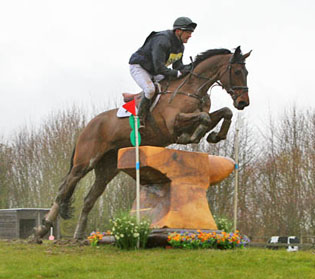 What a miserable day weather wise; rain, sleet, snow, we had it all. However it was great that Lincoln were able to run as it would have been easy for them to call the whole thing off. Thank you Organisers. With the snow and rain and a generally cold, miserable day it was not much fun and I'm very grateful to all of the many volunteers that made it possible.
Both Ricky and Alfie did nice tests, 27 and 29 respectively. The winter dressage training feels like it is continuing to pay off with them both much more confident in the movements and my ring craft continuing to improve. The show jump ground was very wet and many horses were having rails. Of my two, Ricky had 1 and Alfie had 2. But again it was one of those days where up to 2 rails would have been clear in normal conditions.
Cross country was typical Lincoln – plenty of big nice questions. The only fence I didn't particularly like was the first distance in the water complex, as it seemed to be a bit too long for 2 strides but not long enough for 3. The ground was obviously wet cross country, but the horses seemed to get through it comfortably all the same.
I presented Ricky on the wrong line to a corner and he ran past – you can't say I presented him well to it at all. The rest of the track, Ricky was very genuine and brave, and the run out was a good wake up call for me and a good prep run for Ricky heading to Burnham Market.
Alfie had the first 2 fences down in the show jumping, and then went on to jump the rest of the course really nicely. Across country, he was in the groove right from the first fence and gave me a lovely ride! Even with his two show jumps down and time penalties cross country he still came 2nd. Anyway, glad to get them out and start the 2013 season.
Next stop Gatcombe – fingers crossed the weather sorts itself out and we are all able to get out next weekend.
Cheers,
Bill
Posted 17th March