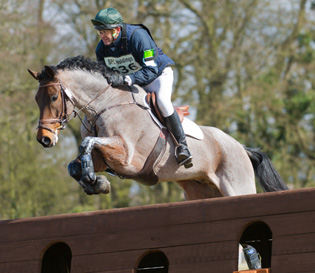 Well today has been an eventful day at Burnham Market. It was my birthday today and a milestone birthday at that as I've reached the ripe old age of 50. My first surprise was the arrival of the kids last night, and then the second today was the arrival of two of my sisters while I was sitting in the lorry after my cross country round on Tommy – I was gobsmacked to see them! It was a truly wonderful surprise, I had no idea they were coming and I promptly burst in to tears – crazy I know but I was so happy and overwhelmed!
Anyway it was very special.
Tommy did his first intermediate today and overall I was very pleased with him. His dressage was frustrating as I know he could be very, very smart on the flat and he wasn't quite with me today. In spite of that he still managed to score a 25, so when he's with me I'm hoping for big things! He redeemed himself with a lovely double clear which I was really pleased about given it is his first run at Intermediate and until you step a horse up you never quite know.
He coped easily with the show jumps – the show jumping was on the outdoor surface which was good in terms of the going being good but it always feels as if the fences come up thick and fast, so I was pleased that I've been practicing the show jumping a fair amount with the horses as it paid off today, Tommy was very rideable.
He was good on his lines cross country. I took one long route coming out of the sunken road as I felt the skinny was a tough test for an inexperience horse at this level. He then seemed to forget his legs coming out of the second water and we landed in a bit of a heap but he was good to keep going and pick himself up with some strong riding from me over the log after the step. So, all in all, I was really pleased with him – and for good measure he ran second in his section: nearly a birthday win but not quite!
Silks also did his dressage in the three star late this afternoon. I don't know his score yet. It was good in parts with still plenty of room for improvement. I feel he's a horse with a lot of talent and I'm hoping this year we can have a good run together and hopefully some good results.
Off back to meet the kids and my sisters and warm up!
Cheers,
Bill
Posted 29th March – Photo Trevor Holt