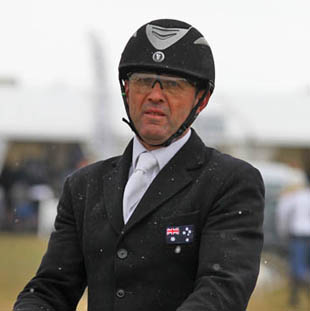 It was an early start as we headed off to Belton for the first of three days competing. I am thankful to be out competing as yet again we heard that events such as Ascott have fallen to the unpredictable weather – I feel so sorry for all involved as people put in so much effort for weeks and months on end only to be stopped by the elements.
Womble and Alfie did their 3* tests this morning, both went better than at Burnham Market with Alfie getting his best score to date of 41.3.
Tommy again led the dressage, he then unfortunately had one down show jumping but was still well placed. We had already decided we were going to take him slowly cross country but as things turned out I parted company with him at around fence 10. It was a longish two strides from an oxer to a skinny and Tommy was slightly off the skinny, thought about taking off then put down again, hit the fence and I went out the front door. He did well to stay on his feet, I got back on and finished the course which was a good thing.
Alex having not been out for a month got a little unsettled in his 2* dressage but hopefully with a couple more runs before Tattersalls there is time to get him organised. So all in all a mixed day with some real highlights and a lucky escape as both Tommy and I seem ok. Hoping the next two days I have a better time on the cross country.
Cheers,
Bill
Posted 14th April