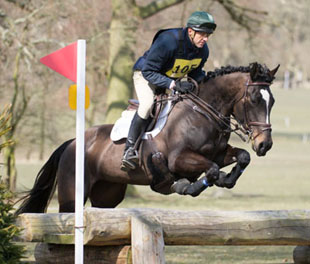 I took Dotty, Silver and Lenny to Solihull today. Solihull is a lovely local event in many respects – they make a huge effort to be accommodating for owners and riders and to make the event a good day out; for example laying on lunch for owners and riders, something that rarely happens at events and is much appreciated by owners and me!
The ground on the cross country was the best it's ever been and the outdoor all weather show jumping arena is a blessing – so all in all a good event. The cross country is challenging in terms of getting a course with enough flow in the space allowed which makes for some demanding twists and turns for young horses from time to time on the course, but in some ways it's good for young horses to have to cope with that and the courses on race tracks overseas are often equally twisty!
Dotty was the star of the day gaining a minor placing in the Novice. She continues to improve in the dressage and she scored a 29. She then just rolled a pole in the show jumping and in true Dotty style stormed around the cross country like an old pro! Silver was a little cheeky, ducking out at a corner on the cross country. This was frustrating as she was well placed after dressage and jumped a lovely clear show jumping round. I will be doing more work with her over accuracy questions at home, especially corners, this week!
Lenny was having his first outing at BE100 and he was very grown up in the dressage scoring 30 and being in the top few horses after this phase. He then went a bit babyish in the show jumping, showing some inconsistency, but it's early days and cross country he went well, honestly taking every thing on. These foundations are very important for an event horse, for them to learn to think for themselves and gain experience without pressure. It's all a learning experience and it takes time to have a clear line on how much potential a horse may have to progress up the grades.
So all in all a productive outing and an enjoyable event for all.
Cheers,
Bill
Posted 21st April