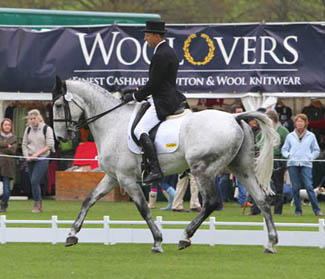 Well a day of mixed fortunes with mixed weather a few showers then good sunshine.
We left bright an early this morning for the trip to Chatsworth with Silks and Womble both doing the headline CIC*** class.
Silks finished 6th after the dressage very close with the leaders on 42 and Silks on a 49, so I am very pleased with him as he is still not long on match practice at this level. He is a cool customer and as such a great competitor as he takes everything in his stride so to speak.
Unfortunately Womble was a handful today getting tense in the dressage, he is still lacking experience at this level and his 'thing' has always been atmosphere, especially when you suddenly change from one environment to another. There was no arena familiarisation and there is a lot of atmosphere in the main ring, and yet the warm up had no atmosphere at all. It's all still a learning curve and I'm sure one day his time will come.
There is still lots to do  – you certainly don't come to an Ian stark course and expect it to be a dressage competition and Chatsworth is certainly not going to be won and lost in the dressage. The cross country course is big and technical with lots of short sharp hills and turns. No one will get the time. There is a difficult fence about 4 from home – rails bounce down into a sunken road then out of sunken road one stride then a bounce. If the horses are tired, with no option it will be a difficult test. Let's hope tomorrow goes ok and that I give the horses a good rid and they do their part for me.
Cheers,
Bill
Posted 11th May