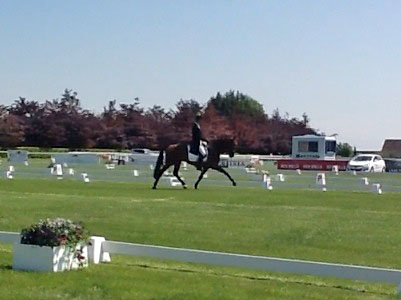 Well it's been a pretty full on day today with Alex, Silver and Womble all doing their dressage. Silver was up first and tried very hard. This event is mostly about her having a first experience of staying away from home and gaining experience, she has a great jump but her flat work is work in progress. With more strengthening and training she will do a 40s test but she is for now a little off the pace as our test had a few mistakes in it. However she tried hard and coped well with the atmosphere.
Womble went second and did a personal best in the 3star to lie in equal third at the end of dressage. He kept his head, with only a couple of moments when he felt a little insecure. I am thrilled with how his work has come on and how he coped in the atmosphere, and there is still more to come! He ended up on a 48, a personal best for him at this level to date.
Alex was last to go today and did a calm and obedient test with just one moment when the next door arena had a loud round of applause just as I went in to canter down the long side which was frustrating. He scored 47 to end up in 11th overnight which leaves him in the hunt.
Silks is on tomorrow morning in the CIC3star.
I don't think the event will be a dressage competition as all the cross country tracks are beefy. The three star will require some positive riding as it has plenty of attacking distances and accuracy questions, but I like the tracks. There is a tough skinny question coming out of the sunken road just before the second water in the three star and a decent corner in the last water in the two star. Plenty to do.
The wind and sunshine have kept up and unfortunately are drying the ground fast – we could do with a few decent showers in the next 24 hours ahead of the cross country for the ground.
Cheers,
Bill
Posted 30th May – Photo Team Levett