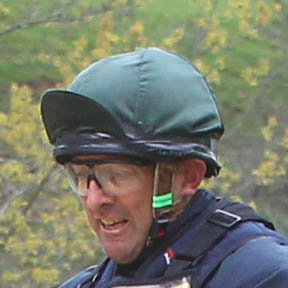 It was nice to get the young ones out at Catton. Due to a bit of rain this week the ground at Catton was really good. It can be an event where the ground goes firm but in fairness to the organisers they seem to have really put a lot of effort in to making the ground as good as possible over the last few years, which is a credit to them and it's an event I always like to support.
Lenny was doing another BE100, this time the 5 Year Old qualifier, and he had a very nice attitude and tried in all three phases. He seems to cope very well with BE100 level at the moment. He did a nice dressage, one down show jumping and clear cross country so I was very pleased for him as he's still such a big baby learning his job. So pleasing day with him.
Dotty, not having been out for a while, had seemed to breathing fire from the moment she got to the event. With a couple of good lunges we headed off to the dressage in trepidation. She actually settled, did an obedient test and was 9th after the 1st phase. In the show jumping she warmed up the best she ever had. She went in the ring and was a bit of a tourist at the second fence, admiring the scenery around her and not concentrating on what was in front of her. In turn she had the next fence and after that she kept on getting better and better, and jumped clear for the rest of the round. Cross country has always been something she is naturally good at and again today she gave me a lovely ride. So a good day for both youngsters and on to Salperton next weekend with Dotty, Tommy, Alex and Monty.
It's another week of training this coming week – firstly tomorrow I'm giving a clinic at Crown Farm and then on Monday I'm back in to the routine of my dressage lessons with Gareth which I enjoy – you never stop learning in this game.
Cheers,
Bill
Posted 15th June