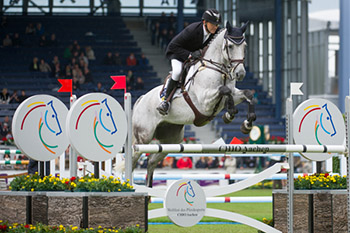 Today was a tough day at the office. Silks found the atmosphere in the dressage arena a bit hard to cope with and on a few occasions got a little tense which let his marks slip. He's still relatively inexperienced so with more training and hence confidence in the movements, and more experience of different venues and atmosphere I'm sure he will relax and I believe he can score in the 30/40s and keep up with the front runners.
Then in the show juming I had 'one of those days'. Firstly my curb chain (a padded leather one) broke as I started my round so was flapping around and then Silks also got a little tight behind over the first two fences and we ended up having 3 fences down.
I just have to put it behind me and try and do well on the cross country tomorrow as the team are still in the hunt in third place close behind the Brits, with the Germans out in front.
Cheers,
Bill
Posted 28th June – Photo Trevor Holt