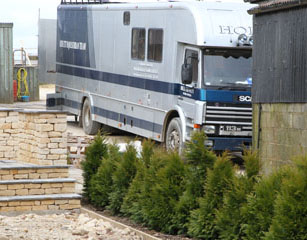 Well the sunshine is still with us and I have had a week with the usual here, there and everywhere.
Monday saw me having some show jump lessons with a few of the boys (Womble, Alex, Alfie, Monty) and as I always say it is very helpful to have some eyes on the ground. It was mostly the older horses having a jump who are not long off their first run back at Aston and I also took Monty to get some input from Roland as we establish our partnership together.
On Tuesday I had a couple of dressage lessons with Gareth and start the long process of trying to bring those dressage scores down for 3 and 4 star goals for the autumn. The evening saw me giving a clinic at Tumpey Green which is always fun – the participants have a very varied set of experience but they all love it and are eager to learn which makes it very enjoyable for me.
Wednesday saw me at Upton House with the Novices. The course at Upton has been improved taking out some of the steep hills and generally having fences that are better built. It is July so the ground is a bit firm but it is good to see an event having fresh input – I will definitely be back as I felt the event has really made an effort and has been reinvigorated which is much appreciated.
All the horses, Dotty, Monty and Lenny, did a good job with Dotty getting another point doing a double clear. Monty was 2nd after dressage and unfortunately had 1 show jump down – with the firm ground I decided to go slowly cross country and save him for another day. Lenny continued to be very genuine, although went a little green on me in the dressage but that is what can happen with young horses. So all in all a good day and just another day at the office, albeit a fun one in producing the babies.
Cheers,
Bill
Posted 10th July