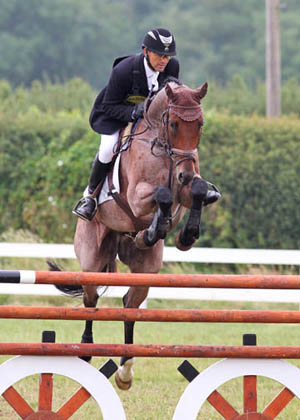 Today the sun was back at Aston and the day certainly got warmer and warmer as it went on.
I had Alex, Silver and Tommy all doing the intermediate, and it was a good day – with three double clears being achieved. Tommy had a win, leading from the front with a 27 dressage and double clear. He felt bold cross country at his fences although still a little spooky in between, but that will continue to improve as he gains experience.
Silver was fourth with a 32 dressage and double clear. I was particularly pleased with her cross country as she was much better on a line and felt straight and genuine which was really nice to see. I was really pleased for Carol and Veronica that she ended up in the money. I feel she is making good progress and maturing in terms of her understanding of cross country.
Alex jumped a mature double clear. I decided not to rush him cross country as he went quick last time out at Salperton. He jumped a beautiful show jump round and has really matured in this phase – the lessons have helped and he's coming in to his own at 8.
So all in all a very good day at the office.
Joshua and Ursula have also had a good day with their first proper one day event under their belt- with clear show jumping and making it around the cross country – which was a feat in itself as it was a proper event with 17 fences around the Wickstead venue. I can highly recommend it to anyone with kids as they do such a good job to encourage the children and make it fun yet educational for them.
Off home for a rest and a long cool drink! We have a couple of quieter weeks at home now before Gatcombe – I'm praying for some rain and looking forward to focussing on my training with the horses.
Cheers,
Bill
Posted 21st July