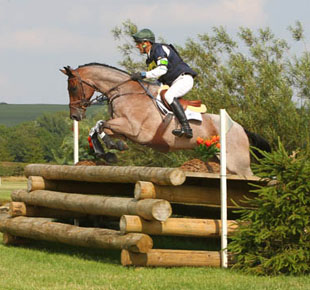 Today started early with Silks doing his dressage at just after 8am. Silks hadn't been out since Aachen and other than feeling a bit fresh he was good. I tried him with a softer bit in the SJ and he seemed more confident and made a better shape.
After not getting round at Aachen it was a similar situation at Aston. He went very well XC until a triple brush at the bottom of a steep slope. So after 3 refusals we had to walk off the course. For Silks' benefit we stayed until beyond 7pm to re attempt the triple bush but I could not get him to run out at it. Very frustrating!
Silver was out again doing another intermediate and overall just seems to keep improving – although at the same fence that Silks had a problem, Silver also had a runout. Silver had an excuse, unlike Silks, because she jumped from the top of the slope to the bottom and stumbled on landing which put her off her line.
Tommy was going for his third win in a row at Aston, but unfortunately it didn't quite happen. I thought I'd made the time cross country but sadly 1.6 time faults cost us our win.
The other horse competing at Aston was Monty, in his first intermediate. With 33 in the dressage and 2 down SJ he set off sedately cross country to give him an educational outing. He handled the cross country extremely well for a first time 6 year old – I was very pleased with him.
The ground today at Aston was firmer than when I went last time with the advanced horses, and I feel this year that Nigel has beefed up all the courses, but in a good way. Tomorrow I will be back there again with Dotty in the afternoon. Lets hope she goes well.
Cheers,
Bill
Posted 8th August