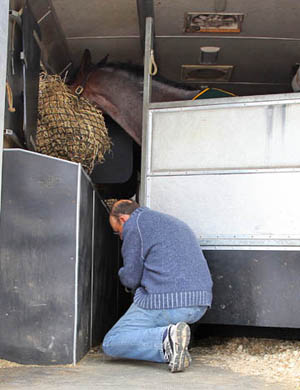 This week started off with a couple of days of Aussie team training.
The first day, on Monday, was a day of dressage at Hunters Equestrian Centre, near Cirencester. It was a really helpful day where Womble and Alfie went along plaited up and I was dressed in my competition clothes. We were all warmed up by Gareth Hughes, and then rode through the test of our choice and had it judged by Christian Landholt.
It's always helpful to ride through the test you have got coming up at a competition. The added bonus this time was that in the afternoon all the riders sat down as a group and
watch the video recording of their tests, while Christian had the test sheet in front of him and explained each mark he gave for each movement and why. It was really interesting to hear a judge's perspective.
We did have one of big drama on the day when Alfie tried to jump out over a divider in the lorry. It was one of those moments that could have been a complete disaster but fortunately only a few grazes and a sound horse was a relief – although I think Jenny is going back in to retirement and not going to groom for me any more! Thanks to Andrew Hoy, Kevin McNab's groom and Gareth for rescuing Alfie.
Tuesday saw another opportunity for training, this time at Rectory Farm with Gilbert Bochhmam. Alex, Silver, Alfie and Womble went down and all of them handled it very well. It was a nice little set for the horses heading to Blair and Somerford.
Now it's a couple of days at home before 3 days in a row at Somerford. Looks like there is some weather on the way but hopefully it will clear by the weekend.
Cheers
Bill
Posted 13th August