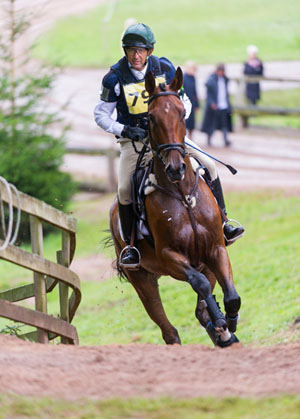 Today saw an early start to Somerford for our freelance help Lucy Miles and me – we left home at 3.30 but other riders left even earlier by all accounts so I won't complain!
It was a day when Silks really needed to go clear and there were a few opportunities for him to run out but he was a good boy and did all the right things, ending the day on a double clear which was reassuring ahead of our trip to Blair next week.
Both Dotty and Minty did the dressage in the 1* and although neither of them will win I was pleased with their first outing at this level. Alex is doing the two star and managed his best result yet by about 5 marks, ending up on 41.4. He should be well placed after the first phase.
Finally Lenny was running in the BE100. He did a good dressage test to score 28.0, had one rail in the show jumping and then I took him steadily clear around the cross country. The courses seem strong but really educational and the ground after the rain was nice.
So all in all a good day for all concerned.
Cheers,
Bill
Posted 17th August – Photo © Trevor Holt