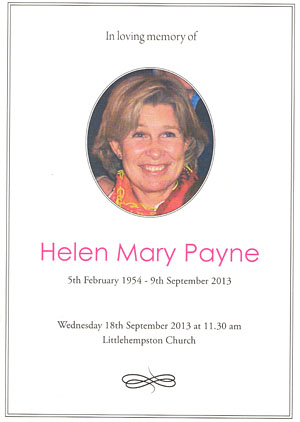 Today has been a very tough day – today we buried my dear dear friend Helen. She has been the most loyal and dearest friend to me over my time in England, which is fast approaching 20 years here.
Helen (and Brian) took me in when I had nothing, when I first came to the UK. They were the dearest of friends and supporters.
Helen was a food stylist in London but had a passion for horses and in particular eventing and dressage. Her care and management of horses was second to none and she taught me so much.
However more important than that, she was the most wonderful and supportive friend. She always had a smile, time for me and always time to listen.
I will miss you always Mrs P
Bill
Posted 18th September