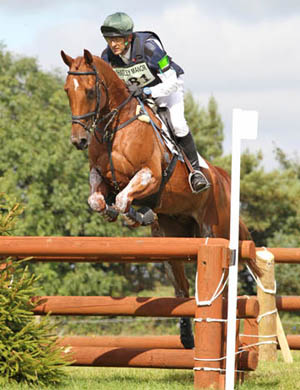 Well, a mixed day at Gatcombe today. Dotty and Silver were doing their dressage for the CIC* and CIC** respectively and Alex was doing the OI.
Alex felt a little bit fresh and tense in the dressage but got a decent mark and jumped a top class double clear inside the time. I think that's his seventh straight clear show jump round and he's now ready to go to the next level – but after our annoying slip up at Tatts earlier in the year and the cancellation of Le Lion after dressage last year due to flooding his end of season goal is his CCI** qualification at Weston Park. All I have to do is get that illusive 2* under his belt and he'll be more than ready to go Advanced.
Silver did a 2* dressage test, but as she's getting a lot fitter, she did not have enough work and played up. I worked her in as I usually do but she's clearly feeling very well and was cheeky throughout her test – frustrating but a good learning experience for me and at least she's feeling fit and well! We left before her mark was up but it won't be one of her better scores.
Dotty did her 1* test and I think she keeps improving but unfortunately the judges didn't think so, and she got a very average mark. Dotty's owner Vanessa and myself can see her trying and improving and we just have to keep working with that until the marks start to come. So all in all not a bad day, with Alex being the star and giving me as good a cross country round as you could wish for.
Alex was just pipped at the post for a win by Andrew Nicholson, coming second in a competitive OI slot.
Cheers,
Bill
Posted 20th September