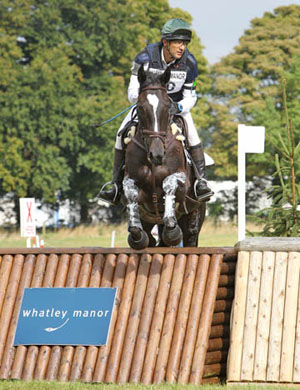 The second day at Gatcombe was doing Dotty and Silver's show jumping and cross country in the CIC* and CIC** respectively. It started off well with a lovely clear show jumping for Dotty.
The two star cross country caused all sorts of problems all day. One of the lines was particularly un-horse friendly I thought. It was a set of rails followed by one long stride to a corner, followed by another corner on three bending strides to the right. I am a big fan of bending lines but not this particular line for most horses. When they jumped the first corner it was a rough turn to get back to the second corner which didn't really give the horses a nice experience.
Silver did it really well and was very genuine through this combination. She gave me a very nice ride over the first two thirds of the course but was a little tired at the water at about 5 minutes and unfortunately left a knee – we both ended up in the drink. The water jump all day had created a lot of problems as it was a brush into water followed by a sharp left hand turn, out of the water, up a steep bank with a log on top, down the other side of the bank through another water complex to a boat 5 strides from the bank. The actual jumps in the water complex were reasonably small, it was just the fact of the turns and going in and out of water which made the test quite difficult.
Anyway we need to get Silver home and get her bloods done and check her out as it was very out of character and given where she is with her fitness doesn't make much sense at all, but sadly they cannot talk! She seems fine and if all is well she will go on to South of England next weekend.
After I got my change of clothes and dried out it was Dotty's turn for the cross country in the one star, and she went round extremely well and considering she is only 6 she has come on leaps and bounds over the last couple of months. So a very pleasing double clear for Dotty in the CIC* which was what we set out to achieve.
So all in all Gatcombe had great ground, good show jumping tracks but some of the cross country questions will need tweaking for next year.
Cheers
Bill
Posted 22nd September