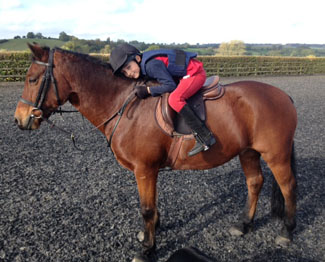 Apologies for the lack of blog updates in the last couple of weeks – I have no excuse other than I've just got out of the habit since my return from Weston Park with Alex and frankly I think what I've been up to has not been that exciting!
It's nice to have a slightly quieter time at this time of year – Silks is back in work so I've started up with him again on the flat and am also riding Gus who I'm excited about for next year, my 50th birthday present from Jenny and the kids. Silver is still in work as we head to Aldon tomorrow for her last run of the season.
I've had the chance to focus on some jobs around the yard and, have no fear, I'm kept occupied by Jenny's endless lists!
As I say, tomorrow I'm off to Aldon with Silver for the last one day event of the year – she is doing an Intermediate. I'm hoping the rain is going to hold off! It will be nice to give Silver a good last run at the end of the season and it will also be great that Carol and Veronica can come and watch her.
The big news today though is that CJ (the kids new pony) has arrived. He is very experienced and should give the kids loads of fun and confidence so watch this space as there will be three going out now, once they get in to the swing of things. No pressure for me then to keep up with them!
Cheers
Bill
Posted 24th October