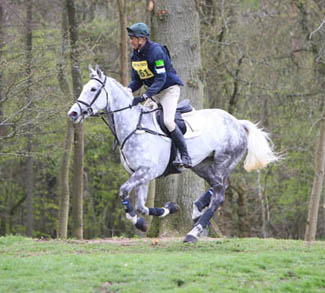 A windy day at Aldon for our last event of the season. Fortunately it was not wet but by the look of the forecast for the weekend it might not stay dry. I don't envy all those riders that need to compete through to Sunday night.
Silver finished off the year with her best placing yet – 2nd. She did her best dressage of the season with a 27 in an intermediate section, a lovely clear showjump round followed by a clear cross country with just 6 time. She was equal first after dressage. I was so thrilled for her owners, Veronica Wooten and Carol Good, for whom I have ridden horses for almost 18 years. It's always nice for a horse's last run to be one which you feel they finish full of confidence.
The ground at Aldon on the cross country was very good, but the track itself was very strong, with lots of difficult accuracy questions, which makes it even more pleasing to see Silver jump round confidently. It's now time for her to have a little break, and very well deserved it is.
We are now stuck in Friday night traffic heading up the M5 as the rain comes in. It certainly does feel like Winter has arrived.
Cheers,
Bill
Posted 25th October