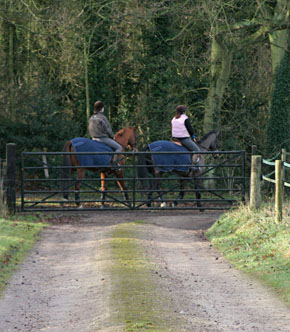 The holidays are almost over for the horses; most of them are coming back in to work this weekend and beginning their walking to get 'legged up' for the season ahead. Womble, Alfie and Silks (the big boys) are all now back in walking work and beginning their fitness preparation.
As anyone who knows me well knows, I am not a fan of hacking – however I do go out a lot with the girls at this time of year especially as I think the long slow work on the tracks is so important as a base fitness and route back to their training and I do enjoy investing the time in this work to get the 'base work' in, so to speak.
We are very lucky to have some great hacking right on our doorstep, with a series of country tracks and small roads with lots of good hills. This terrain is a big part of my core fitness programme for the horses. I think it's very important for horses to get out of a school and to have to walk across slightly uneven terrain and across grass/mud and natural surfaces. It would be all to easy for horses to spend their lives in this modern day in an arena on a surface or on a walker on a surface.
We work hard to make sure they do plenty of hacking and hill work as an ongoing part of their routine and when they come back in to work. It involves sitting tight at this time of year on a few of them! However it's well worth it – and thankfully so far this autumn/winter the weather has been kind to us. Long may it last.
Cheers,
Bill
Posted 30th November