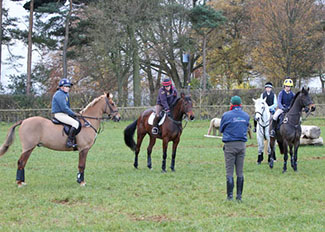 This morning I gave a clinic to some die hard eventing enthusiasts – and they all had a great time.
Many people had had to postpone due to the weather and being unable to get to the venue. However a small group made it and all were pleasantly surprised by the good ground conditions under foot on the cross country course AND that they didn't get wet during the clinic!
We definitely got the best of the weather today, as this afternoon the rain and wind set in again. However Swalcliffe lived up to its reputation of being a venue that has great ground throughout the winter – hats off to Richard, Sarah and team.
Cheers,
Bill
Posted 5th January