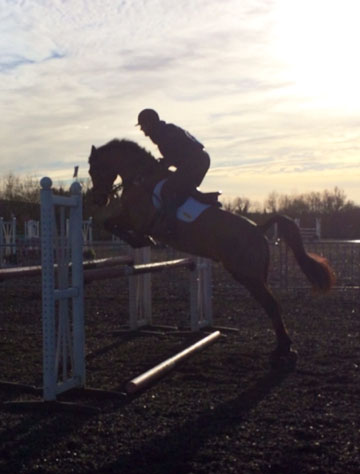 It's all systems go at Little Charingworth this week with the horses work ramping up and some of them starting to get out and about jumping. I took Sparkles and Gus to Allenshill on Tuesday for some show jumping practice 'off the place'. I always think it is important to get the horses off the place to jump as they can find it all rather more exciting when they are not jumping at home in familiar surroundings.
Gus found the outing a little exciting but jumped well. I need to get him out and about as he is going well and has matured so much physically but he's not really seen the world much so far in his life.
Sparkles took everything in his stride – he's a little ahead of Gus in 'life experiences' having done a few events in Ireland as a five year old last year.
Both are lovely horses and I enjoyed getting them out for some show jumping practice. Allenshill is a great venue as it has a full set of show jumps and so you can jump a range of different courses and/or schooling in your own time which is really beneficial and a cost effective and time efficient way to get out and about.
Cheers,
Bill
Posted 14th January