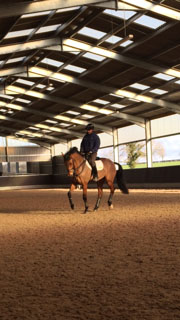 I'm in full swing now with the dressage lessons and so far so good. All the horses seem to have improved from last year and I have everything crossed that I can transfer that better work into the arena in the Spring. It's a busy time with the fitness programmes just starting to come into full swing .
I've also given a few clinics, most recently at Swalcliffe – which is a fantastic cross country venue as despite the recent non-stop rain the ground was good on Sunday and all, I think, had fun and learnt something. It's been fun to get out and teach people more this winter, and I find it a nice change from riding, although I wouldn't want to switch completely to just teaching! I do enjoy sharing the knowledge I've picked up over the years with other people and the process of learning myself and then transferring knowledge to others.
Let's hope we can keep everything going to plan with the horses over the next few months  and build on our success in 2013.
Cheers,
Bill
Posted 5th February