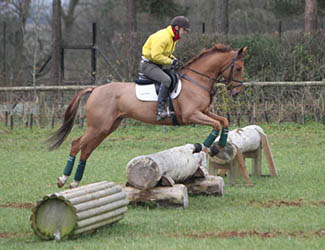 The weather continues to test us all, although we have nothing to complain about compared to most, as thankfully we live on top of a hill. However despite the persistent rain and wind we've been able to get out cross country schooling at Swalcliffe – it never ceases to amaze me how good their ground is  – it drains really well and Richard and team have done a great job of continuing to develop the range of fences on offer.
Cross country practice on a surface appears to be all the rage (and I hear the Aston facility is excellent so take nothing away from them), but I'm an old fella and as anyone who knows me  knows – not much of a follower of trends SO I remain keen on the principle of cross country schooling on grass and getting horses used to going in the wet and conditions that involve a little (but not a lot) of mud!
The young horses are coming on and it wont be long before they will hopefully have their first eventing experience of 2014.
Cheers,
Bill
Posted 11th February