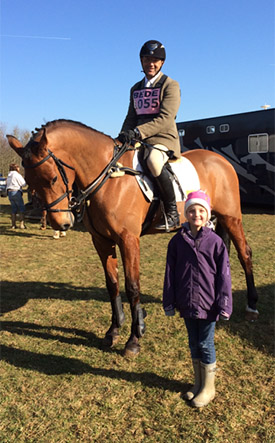 Today has been a great day – I've just arrived home after an eventful day. It was an early start with Ursula (keen as mustard) wanting to join Emily and me for our 4.30am departure from the yard.
Gus had his first ever run around a BE 100, or for that  matter his first ever one day event, and Sparkles had his first ever event with me, having done a bit as a five year old in Ireland. They both have such lovely temperaments and really put their best foot forward. Oasby has done a monumental job to keep going and run all days – and today the sun came out for them. It is a great event and my favourite place to start my BE season each year.
Gus had one hiccup at a corner where he spooked at some bales on top of the corner, otherwise he would probably have won his section as he led the dressage and jumped a lovely (and rare) show jump clear. Sparkles then followed suit and had a lovely double clear. So I couldn't be more pleased with them both – both exciting horses for the future.
Before we could draw breath Jenny had brought Josh to the event and Jenny then took the horses home with Emily and Ursula, and Josh and I headed down to Twickenham to watch England play Wales in the rugby, and watch England win (I may be Australian but I support England whenever the Aussies aren't involved!)
So a good day was had by all and a lovely time father and son this afternoon, thanks to our good friends and Josh's god mother.
Until next time,
Bill
Posted 9th March