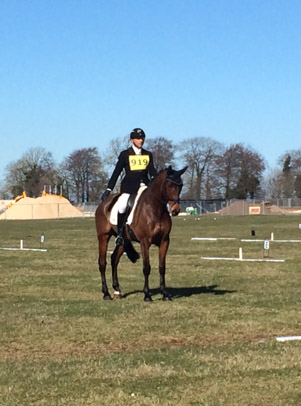 A glorious day at Lincoln, and the best ground that I've ever seen there – really excellent. Team Levett had Silver, Alex and Womble all running round the intermediate and it was an eventful day to say the least!
All the horses improved on their Oasby runs, particularly in the dressage. Womble was in the lead again which was nice, but half way round the cross country my stirrup leather broke. We did manage to finish clear, but not in an overly stylish fashion.
Alex again was a really good boy, being very settled in the dressage and jumping another nice double clear.
Lincoln is a very strong intermediate with some fences bordering on advanced in difficulty so it was really pleasing that Silver, with relatively little experience, jumped round very confidently and she, as well, went double clear.
The course as I've said is strong but there were only two fences that I didn't think really worked. The water jump in the second part is just a little too long on two. You can get the two, it just doesn't work that well and some horses always have to chip in an extra one.
Lincoln has always been an event that I feel is very educational for horses, with lots of variety and different tests, and hence I always make the journey if possible. But the last fence this year wasn't very well thought through, being very upright, and I saw a fair few horses leaving knees on it. The last fence, I think, should be something nice for a horse to finish on.
Anyway, we are on our way home now and all in all it has been a good day.
Cheers,
Bill
Posted 16th March