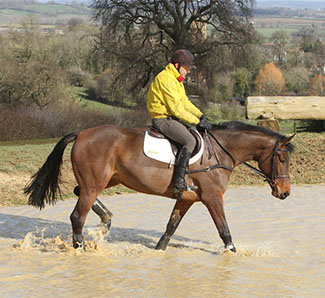 Early start this morning to give Alfie a cross country school before his first run this coming weekend. He hadn't forgotten anything and went really well. Hayley, the South African rider based with us, came too for her first time at Swalcliffe, preparing her horses to compete, aiming for WEG. Her horse Piggy took it all in his stride. Then there were the young ones – Dylan and Cassie. All I can say is they need a little more time before they can go and compete!
I had a little incident with Cassie as she slipped over and my leg got stuck underneath her for a while. By this afternoon it's starting to get stiff and sore which is a pain, hopefully just bad bruising.
The weather was lovely and it was definitely beneficial for them all. Then it was home, quick turn around and off to combined training with Silks, Womble, Alfie and Ricky. It was nice to get them out doing a test on grass and although there's still a long way to go, it seems like they are keeping on improving. The big down side was the weather which came in the afternoon and ended up being very wet and miserable when I was doing the show jumping. Now all we are looking forward to is getting home and getting warm – and putting some ice on the ankle!
Cheers,
Bill
Posted 20th March