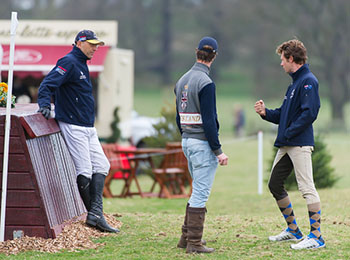 Well first day of Belton done and we had three horses up there today. For me it was Silks and Alfie doing their CIC3* dressage and we also had Hayley Parker and her horse Piggy on board, for her first run of the season. She has two horses with us and I am giving her a hand to try and get them qualified for WEG. I think she was pleased to get out and have a good first run under her belt, as we were a few weeks ago.
At team training the other day the horses were a bit fresh and it didn't really go that well, but with some dressage help between then and today we seem to be back on track and heading in the right direction.
Silks did his best score to date at 3* with a 41.5, and Alfie also doing a nice test, albeit with a couple of mistakes. Pleasingly, both are in the top 10 after the first day. So Alfie and Silks have a day at home tomorrow before coming back on Sunday for their jumping and XC.
A 4.30 start tomorrow morning to bring Womble, Alex and Ricky to do their dressage. The cross country looks strong and well built… certainly a track that will get them in the groove for their big competitions. If they all go around Belton well, then you would have to think they can't be far off ready for their 4*s.
Cheers,
Bill
Posted 4th April – Photo © Trevor Holt